One of my goals for 2019 is to give more.  In the past, I have donated prints to support high school art department, I have sold prints and donated the entire proceed to disaster relief after a hurricane.  This, however, was the first time I did something that might directly impact the people of Chicago...where I live.
As an immigrant myself, I believe it's important we are able to celebrate where we came from, what shaped us to be who we are, and help remember those who made it possible for us. 
I think one of the big problems in this country is we don't know how to be proud of our own culture while appreciating cultures of others.  It's not that hard.  Just remember, we are all trying...trying to support ourselves and our loved ones.  At the end of the day, we all want our families safe and fed.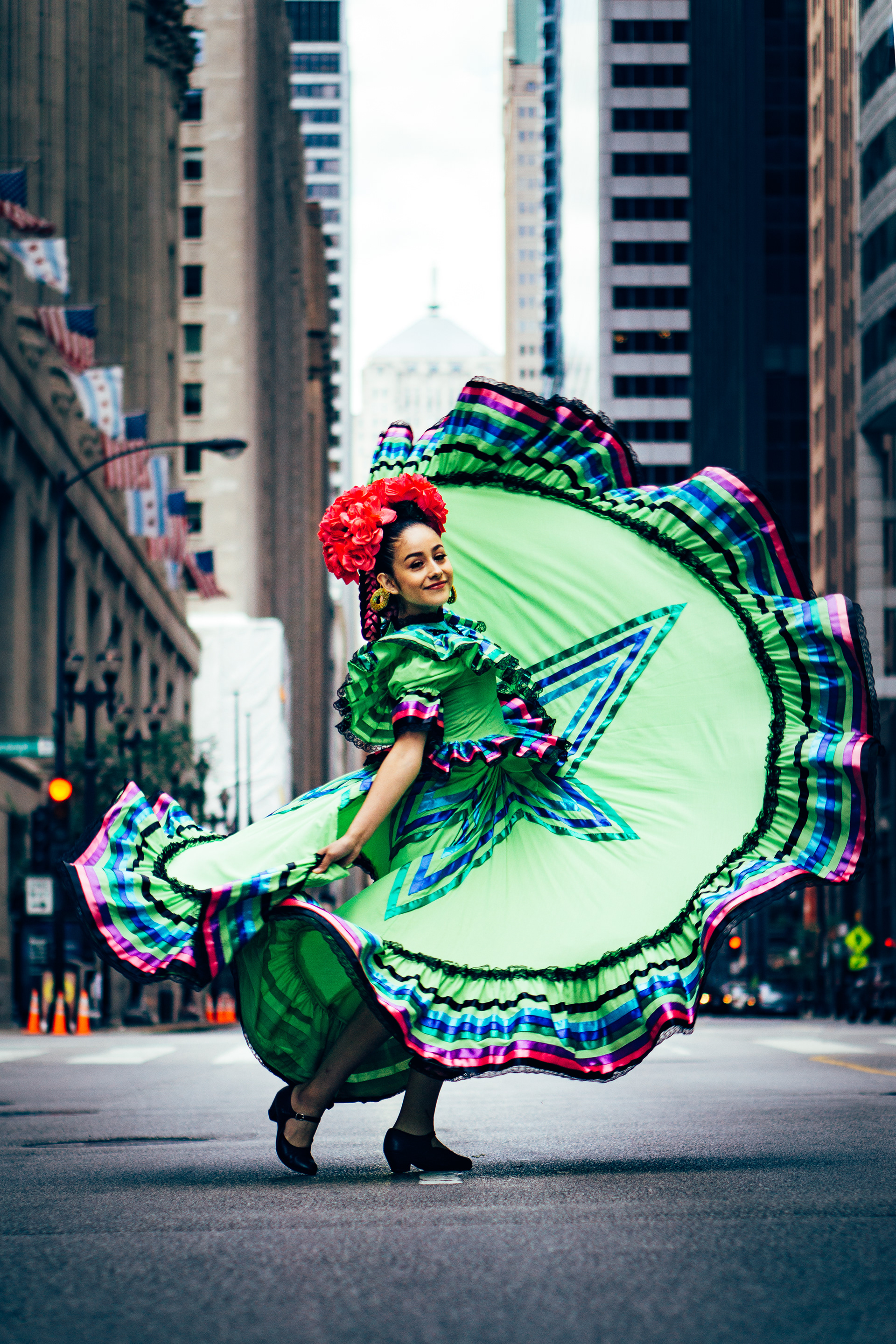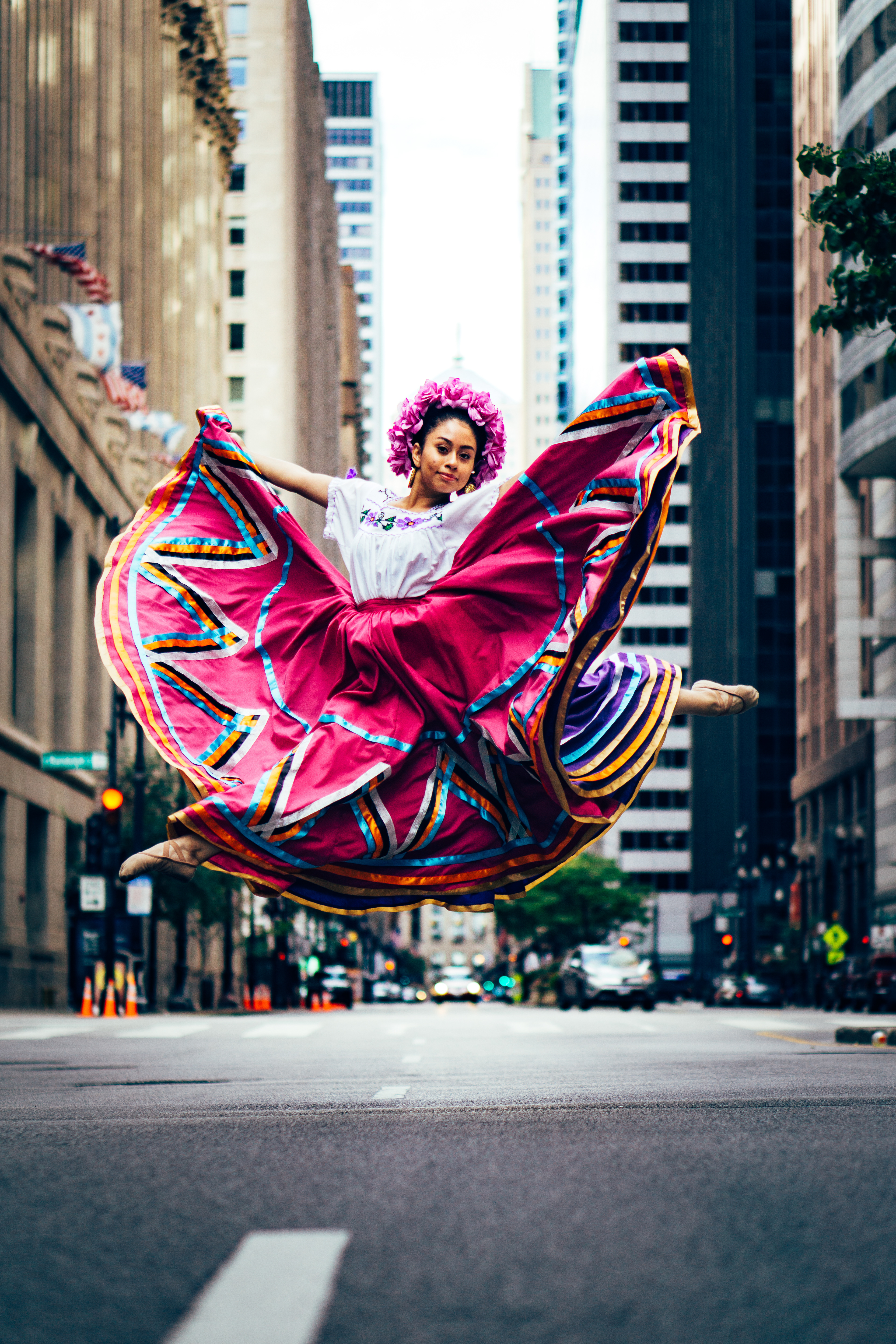 The above two images where shot in the middle of the street by La Salle and Lake.  I've wanted to shoot at that location for a while now.  I thought it'd be a great location for a shoot like this.  The juxtaposition of traditional Mexican Folk dresses and the concrete urban jungle that is downtown Chicago. 
As you can see, the two different styles are quite evident.  Ximena on the right dances the Michoacan style with a little bit of ballet influence.  Joccelyn on the left, dances the Jalisco style.  Both are jaw droppingly (I know this is not a real word, but it describes how i feel perfectly) stunning. 
By the way, I'm by no means an expert on Mexican Folklorico, I did a little bit of research, and Cindy (choreographer) gave me a few quick pointers on the spot...so if i get anything incorrectly, please let me know by using the contact form at the bottom.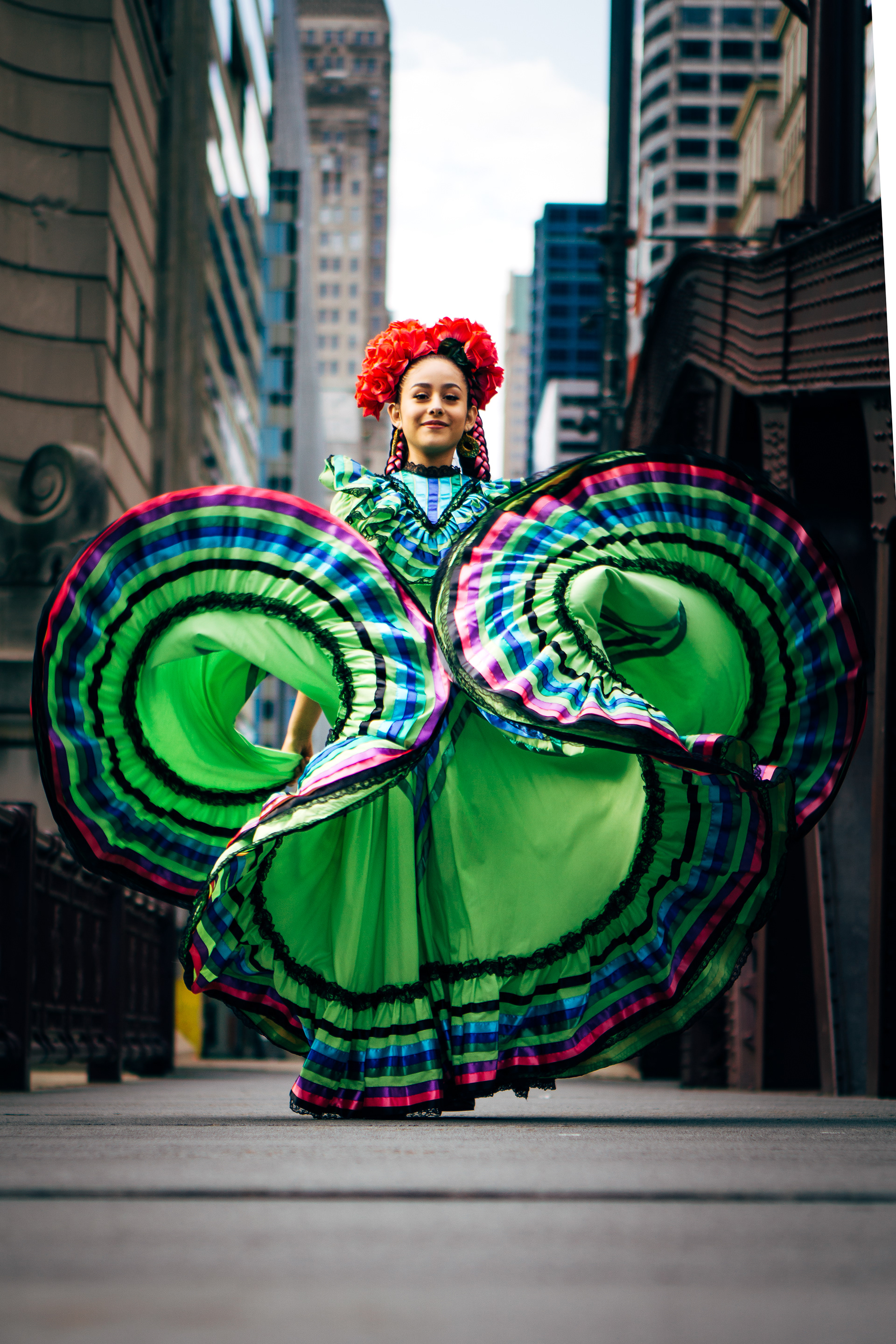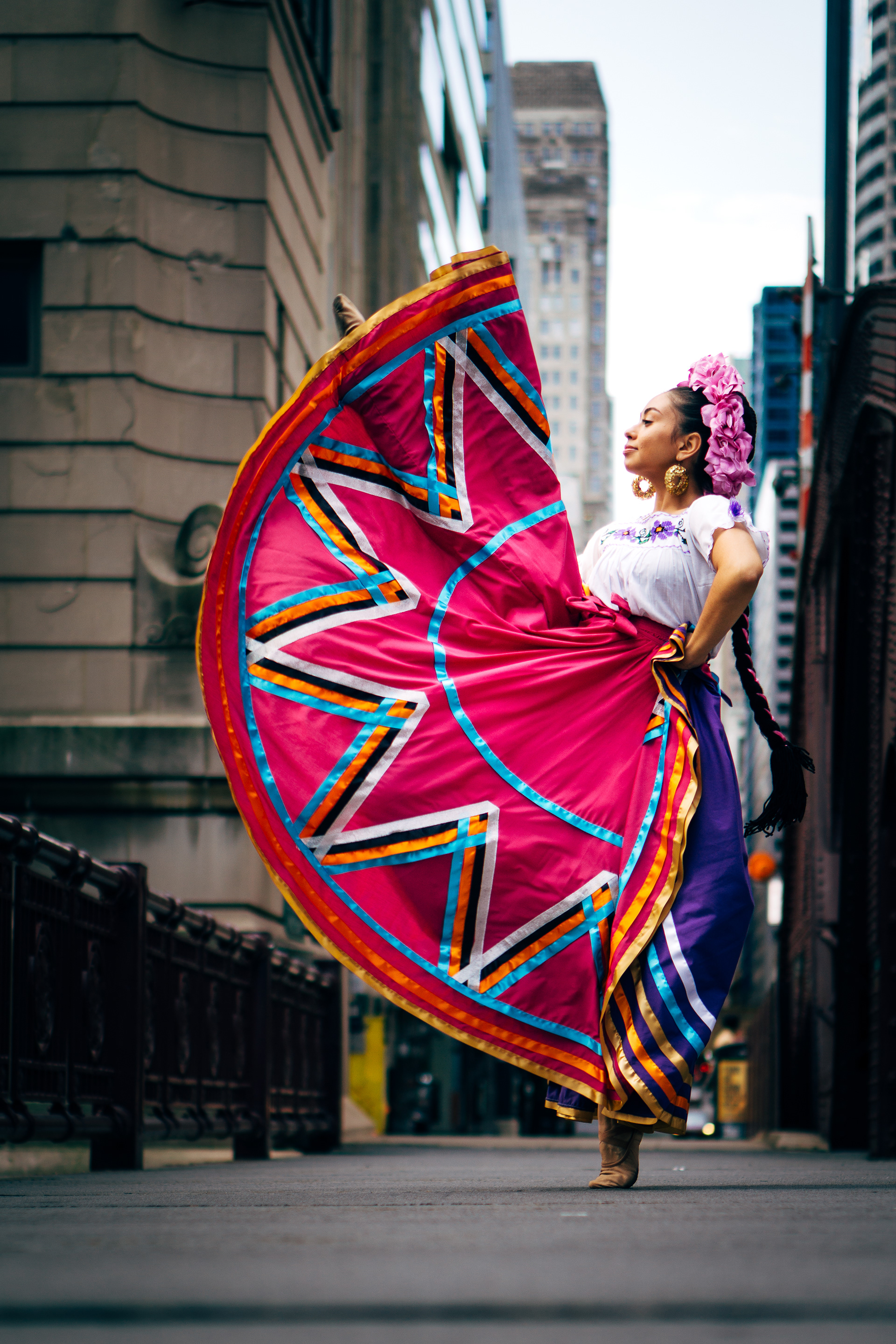 A little north of our first location, we stopped on one of many iconic bridges on the Chicago River.  These talented dancers are magicians with their dresses.  Not only do they have to control their bodies, they also have to create these mesmerizing shapes.  The editing on this collection is a little bit more vibrant and more saturated.  I really wanted to showcase the colors of the dresses and head wear, while making the background de-saturated. 
A little off topic, but I'd like to address the issue of keeping one's work consistent.  For any artist, it is important your work stands out, and one way to do that is keeping your work consistent...as in...having the same look, style, tone, composition...etc.  You want people to recognize your work without looking at the name...
However, sometimes I feel like it could hinder an artist's growth.  I look at accounts of photographers on
Instagram
, and see they post the same thing over and over.  Same composition, same editing, same props...
Growth is just as important as consistency.  Experiment, and try something outside of your comfort zone.  It will only make you a better artist.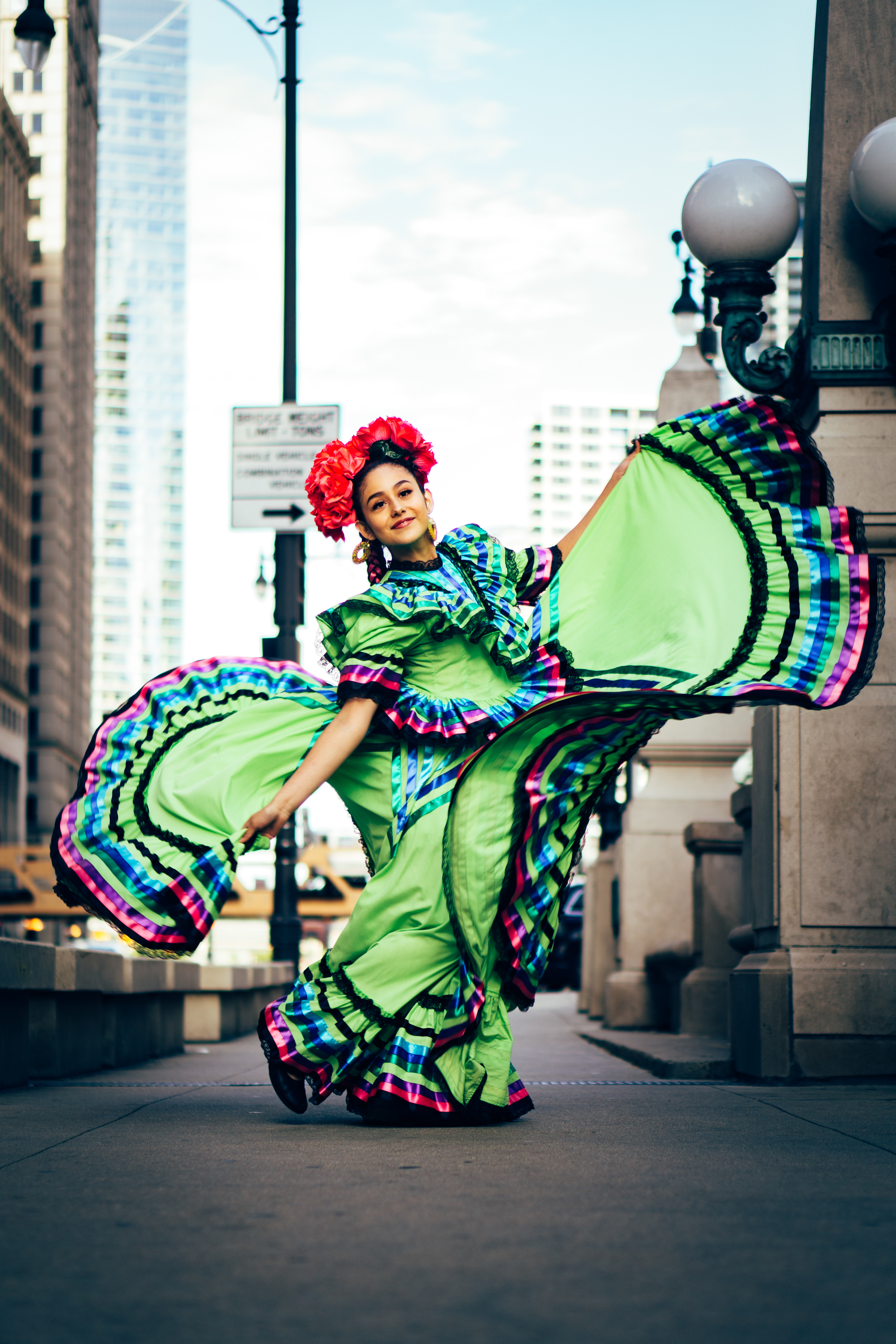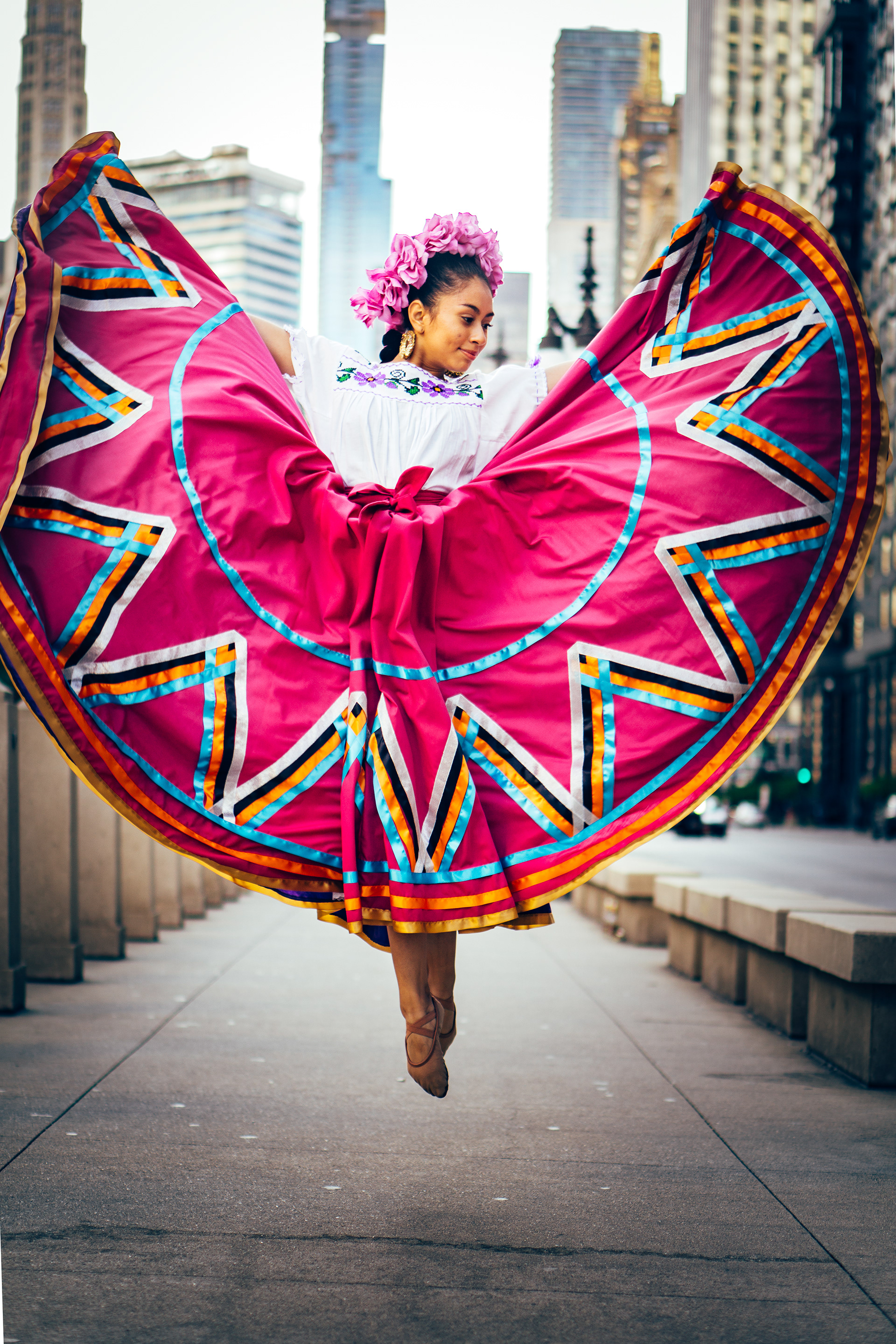 Saturday mornings is one of my favorite times to shoot in Chicago.  Typically most people aren't up and about yet.  So you get to shoot on the streets without too many tourist in your shots.  There were still early birds walking about, and it was lovely to see them complimenting the dancers...I mean, how can you not?
A lot of people don't realize a photoshoot isn't just about the images.  It's the whole experience.  Especially when it comes to outdoor shoots.  I love capturing images in Chicago, because the city itself is part of the experience and story.  What is not shown in the images is a teacher who's passionate about her art and students.  What is not shown in the images are the parents of the dancers, proud of what their children have achieved, and being able to witness their pride and joy, excelling in their elements.  How do you put a price tag on that? 

Photographers, this is what we should strive to bring to our clients.  A collection of incredible images and a memorable experience.  Believe it or not, we are in the service industry.